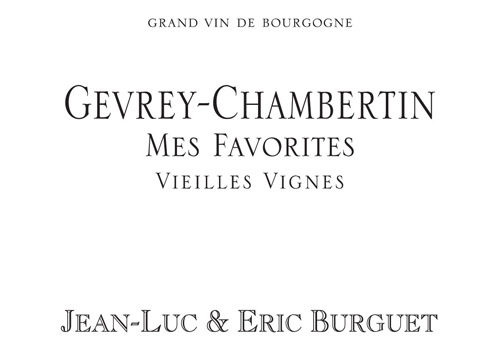 Location: Gevrey-Chambertin, Côte de Nuits, Burgundy
Size: 9.5 ha (23.48 ac)
Varieties: Pinot Noir, Chardonnay
Viticulture: Biodynamic (not certified)
Vinification: 100% de-stemmed, limited new oak, unfined, unfiltered
Past & Future
Alain was born in 1950 to Yvon Burguet, a tâcheron for Domaine Tortochot who also worked his own vines in Gevrey. He was a tough father, and Alain and his brother, Gilles, were expected to work in the vines at a young age on their days off from school. Alain remembers being ten years old and carrying a bucket of grapes at harvest that must have weighed as much as he did. By age 14, the boys were deemed finished with school and they began to work full-time in the vines of Gevrey under their father's strict direction.
After military service, Alain returned to Gevrey and decided to start his own domaine, working exclusively with rented vines until 1974 when the opportunity arose to buy his first 2.10 ha of vines in the village. He bottled his own production from the start, and began to earn a reputation for himself, which was boosted around 1982 when Becky picked up Alain's wines. She brought Jean Troigros to taste, who was utterly impressed with the Gevrey Vieilles Vignes and promptly added them to his restaurant's list. Alain continued to expand his domaine, acquiring 1er Cru Les Champeaux in 1985, inheriting some of his father's 3.5 hectares in 1991, while still working rented vineyards. As Clive Coates explains, "Alain Burguet is an example of how it is still possible to build up a domaine from scratch, without ample resources and without having to make a 'sensible' marriage, even with today's high prices of land." Having established his estate entirely on his own, Alain began looking forward to the future of the domaine, after his retirement.
To the relief of Burguet fans, after a smooth transition his two sons are carrying on the family tradition. Jean-Luc first started working at the domaine in 1997 and Eric followed in 1999, working with their father in the vines and the cellar, doing everything from preparing orders to discussing the date for harvest with Alain. Jean-Luc did a 'BAC Pro' focusing on viticulture, then a BPREA (a professional degree for managing agricultural operations). During his studies he worked at several neighboring wineries in Gevrey-Chambertin including Domaine Bachelet, and also worked in Bandol. With the goal of broadening his knowledge abroad, he then worked in California with Jim Clendenen at Au Bon Climat in Santa Barbara. Eric completed a 'BAC' and a BTS that included both winemaking and commercialization of wine and spirits. Like his brother, he interned in production, at Domaine Henri Gouges in Nuits-Saint-Georges, and also had stages in the wine trade. The 2011 vintage was the first with Jean-Luc and Eric at the helm as Alain officially retired.
Viticulture
Well before the more global movement toward sustainability and almost 20 years before Ecocert was created to certify organic agriculture, Alain insisted on organic methods. Since the start of his career, when he first began to work rented Gevrey-Chambertin vines in the 1970s, he used only 'contact' products, and rejuvenated the soil with composted organic matter rather than industrial fertilizer. Most importantly, and before most of his neighbors, he recognized the importance of regular plowing to generate healthier soils and vines. Jean-Luc and Eric have taken their father's work a step farther. Viticulture is now biodynamic (though not certified), and the two have fitted the cuverie with their own copper biodynamizer.
Most of the cuvées made by the brothers are from vines that are estate-owned, though they do work rented land and since 2001 the domaine has bought grapes from trusted friends in order to offer appellations outside of Gevrey. In 2014, they seized the opportunity to purchase 2.5 hectares of land that used to belong to their grandfather. The new holdings include Bourgogne Présonniers, Genevrières and Grand Champs at the regional level, and Les Crais (blended into Symphonie) and Corvées (added to Mes Favorites) at the village level.
The majority of the domaine's parcels are village-level and go into one of the domaine's two Gevrey cuvées. Symphonie's grapes are sourced from younger vines (planted in the early 1980s), the majority of which are located to the east of the Route Nationale. And Mes Favorites Vieilles Vignes is from older vines (planted from the early 1900s to the 1940s) on sloping terroirs to the west of the Route Nationale. The old vines are mostly, though not exclusively massal selection.
Vinification-Reds
The Burguets are consistently one of the last domaines to harvest in Gevrey-Chambertin. In 1997, Alain Burguet noted a vegetal note on the finish of his wines and a roughness to the tannins, which he attributed to the phenolic immaturity of the grapes. So starting with that vintage, even if the sugar and acidity levels were correct, he decided to wait and seek out full phenolic maturity, resulting in fuller wines with more finesse and velvety tannins with a gentler vinification. Jean-Luc and Eric continue to harvest after most of their neighbors. They credit Burgundy's cool autumn nights and organic health of their vines with the maintained acidity in the wines.
Grapes are hand-harvested and 100% de-stemmed. Though Alain's percentage of whole-cluster fermentation was always low (10-15% depending on the year), he decided to completely de-stem in the late 1990s, preferring a slow, gentle de-stemming and whole-berry fermentation with no crushing.
With the 2003 harvest, the Burguets started implementing triple sorting – the first by the harvest team in the vines, the second upon the bunches' arrival in the cellar before de-stemming, the third an inspection of the whole berries on a vibrating table before they are put in tank. "You see the berries in the tank and you'd think they're caviar, the berries are so black and ripe!" Alain says. Despite the cost of more cellar staff at harvest, he and his sons found an improvement in the precision and purity of the fruit in their wine, achieved without intervention in vinification.
Overall, Jean-Luc and Eric prefer a hands-off approach to vinification. They do not thermo-regulate their tanks to speed up or prolong fermentation. Alcoholic fermentation can begin as early as 4 days after harvest or up to 10 days later, and will generally bring the temperature up to about 33°C. Jean-Luc and Eric use indigenous yeasts only, believing them to be the true key to minerality in their wines. As of 2004, the Burguets reduced sulfur levels even further than before, and have noticed much more precision in the wines since. They rely on the natural CO2 produced during fermentation rather than dry ice to protect the juice from oxygen. Over time, they have backed off on extraction, and whereas Alain used to punch-down twice a day when he started, punch-downs and pump-overs are now dictated by the stage of fermentation and vintage profile.
The wines are transferred to traditional oak barrels after a slow and gentle pressing. Jean-Luc and Eric have progressively limited the amount new oak and the maximum for any cuvée is 30% (Clos de Bèze). Racking occurs once at bottling, though the Champeaux may be racked before, as it tends to reduce. No fining or filtration.
Vinification- Whites
The only white made by the brothers is two barrels of Meursault village. They purchase settled must, rather than whole clusters or grapes, in order to avoid too much skin maceration on the long ride from Meursault to Gevrey before pressing. Alcoholic and malolactic fermentation occur in older oak barrels.
Significance
Antonio Galloni sums it all up: Jean-Luc and Eric Burguet "continue to put their own personal touches on the wines at their family's domaine. A focus on biodynamic farming, gentler winemaking, and lower amounts of new oak are all among the recent developments at this small cellar in the heart of Gevrey."
They strive to continue their father's legacy of wines that are clean and natural with very little sulfur dioxide, expressive of their terroirs, and above all elegant. The goal for upcoming years is to find vines in a few Côte de Nuits appellations that are 1er Cru and Grand Cru, to further expand their range and to be able to make wines from even more legendary terroirs.