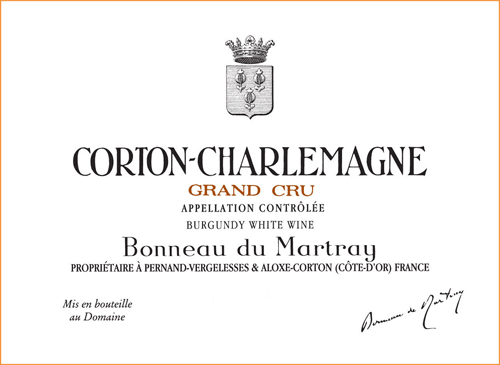 Location: Pernand Vergelesses, Côte de Beaune, Burgundy
Size: 11 ha (27.18 ac)
Varieties: Chardonnay (86%), Pinot Noir (14%)
Viticulture: Certified organic (Ecocert), biodynamic
Vinification: Indigenous yeast alcoholic fermentation, aging with up to 30% new oak, very light fining and filtration
Prologue
Emperor Charlemagne first rode by the hill of Corton in winter. Noticing that its unusual exposition had caused the snow to melt there before the other hills, he ordered it to be planted to vines.
Several years ago at a wine function, Anne Le Baut de La Moriniere, Jean-Charles' wife, was seated next to Etienne Grivot who told her, "You are very lucky in Pernand, you have beautiful, unusual light." She asked him what made him say that. "I am a helicopter pilot", he replied, "I am used to observing."
On the drive to Beaune from the family home, when we leave the village of Savigny-les-Beaune, the valley opens up to vaster skies and the hill of Corton. There, we are hit by very unusual light, so vivid it feels divine, as if of all places God had chosen this one to make an imminent announcement.
The heart of the Corton-Charlemagne appellation are the lieux-dits 'En Charlemagne' and 'Le Charlemagne'. They are the only grands crus in Burgundy facing west. Long after dusk has set on the east-facing slopes, they still talk to the sun.
On Light & the Inadequacy of Language
Bonneau du Martray's Corton-Charlemagne is a difficult wine to describe. This is particularly true when it is young. It can take a decade before it will say something more than "Stony. Wait." But even with age it does not bloom in the same manner as the Montrachets do. In a way, it tastes like theoretical astronomy: we know that black matter exists, we can sense it, but we have no manifest proof of it. It's a very beautiful agony.
In Making Sense of Burgundy, the best modern prose written about Burgundy, Matt Kramer is similarly cryptic: "Corton-Charlemagne is a wine of texture. It should give the sensation of heaviness without actually being heavy. Each mouthful is its own universe of flavor, never capable of being fully explored… Although Chardonnay has proven the ideal vehicle, one is not drinking Chardonnay with Corton-Charlemagne: One is drinking terroir."
Even Jean-Charles, who has been at the domaine for every harvest but one since 1969, struggles to explain the mystery of his vineyard. "Something in Corton-Charlemagne fills your palate, but it changes very quickly into something impalpable. What is it made of? It's difficult to qualify. It doesn't saturate, it doesn't blanket, nothing occupies a space of overt power, yet, at the same time, it is incredibly intense. It's a very real sensation, but it doesn't fit with the usual descriptions of wine… It is equally as impressive as the Montrachets. But it is of a different order."
For lack of words, Jean-Charles has turned to painting: "Montrachet reminds me of Veronese: sumptuous, full, but at the same time balanced. Rubens comes to mind for Bâtard-Montrachet: the sensuality. But when I think of Corton-Charlemagne I have to go to a very different place. I find that Vermeer expresses it perfectly. His subjects are modest, nothing really: a girl with a turban, a woman reading a letter. And what is revelatory is only the light. That's what is happening, I think, in Corton-Charlemagne."
There's more to it than analogy. With its west-facing slopes, Corton-Charlemagne is actually —physically— a wine born of unusual light. "I don't know what effect it has on the vines", Jean-Charles says, "but they function by photosynthesis. If they are getting good light, there's a good chance that they are responding sympathetically."

History
Myths about Corton-Charlemagne abound, but it is accepted that part of the vineyard did once belong to Charlemagne, King of the Franks, Holy Roman Emperor, reformer of education, father of Western Europe, famous wine lover. His grandfather, Charles Martel, had confiscated the land after finding that the Burgundians had failed to valiantly enough oppose the Saracen armies. In 775, Charlemagne bequeathed it to the monks of Saint-Andoche in Saulieu in compensation for the destruction of their Abbey by yet another wave of Saracens. Clos Charlemagne, as it was now known, would not change hands again for 1,000 years.
In 1750, Simon Very founded in Beaune what is now Domaine Chanson. His early customers included Voltaire and the British lords Montague. According to Lavalle and Rodier, on May 2nd 1791, the Clos Charlemagne (then 2.9 hectares) was sold to a Francois Ray of Pernand, for 10,800 livres, at the ventes des biens nationaux, the auctions of Church property following their confiscation by the revolutionary government. It is believed that the Verys purchased the Clos sometime thereafter.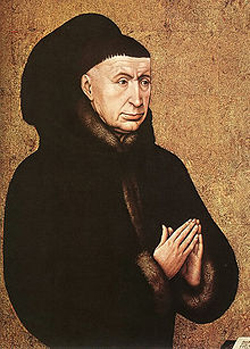 The Bonneau du Martray family descends directly from Chancellor Nicolas Rolin who founded the famous Hospices de Beaune in 1443. A charitable hospital for the poor, the Hospices received its first patient in 1452 and remains operational 5 ½ centuries later. In 1971, the hospital was moved to modern facilities, and the original building became a museum. It is one of the most important examples of French XVth century architecture.
In 1835 Charles Bonneau du Martray, an important landowner from the Morvan, married Eugénie Very. Her dowry included 24 hectares of vineyards in Pernand, Aloxe and Volnay.
In 1855 Dr. Lavalle mentions the Bonneau-Very family as owners in Pernand of 19.7 hectares of white wine vineyards in Le Charlemagne and of some red wine vineyards in the same climat, as well as vines in Le Caradeux. In Volnay, he mentions the Very family as proprietor of vines in Cailleret (Les, En or –Dessus). In 1892 Danguy & Aubertin mention the Bonneau Dumartray family as proprietor of vineyards in Pernand in Le or En Charlemagne (but no longer in Les Caradeux); in Aloxe-Corton in Le Charlemagne; and in Volnay En Cailleret, Village de Volnay, Volnay La Gigotte and Volnay La Cave.
Charles and Eugenie had two sons, Paul and Eugène. Paul gambled all of his inheritance away, including his half of the vineyards, and when he was done with that, he gambled away his wife's inheritance too. Eugène, on the other hand, lead a brilliant career in civil engineering, entirely reconstituted his twelve-hectare share of the vineyards after phylloxera, fought in the Prussian war of 1870 as well as WWI, and lived to the age of ninety-nine. At his death in 1934, the domaine passed on to his son René.
René managed the domaine from afar, as an absentee landlord, letting his vines to local sharecroppers. Having no descendants, he chose to pass the domaine down to his niece and goddaughter, Alice, and her husband Count Jean Le Bault de la Morinière.
Arriving in 1969, the Count and Countess found a domaine with no winemaking facility, and with aging vineyards tied up in sharecropping arrangements. French law favors the sharecropper; it says a lot about the Le Bault de la Morinières that over the subsequent years they were able to regain control of their vineyards in an amicable manner. They replanted 25% of the vines, built a winery by covering the courtyard of the family house, and established the Domaine Bonneau du Martray as the reference standard for Corton-Charlemagne.
"In any judging of Corton-Charlemagne, the wine of Bonneau du Martray is destined to emerge in the top rank. It has the succulence, the texture and the profound richness that one has a right to expect. It also ages magnificently. It is one of the consistently great Corton-Charlemagnes." –Matt Kramer, Making Sense of Burgundy, 1990.
Sadly, in 1992, Alice Le Bault de la Morinière prematurely passed away from complications of a succession of serious illnesses. Shortly after, Jean decided it was time to step away from the day-to-day running of Bonneau du Martray and to leave it to his son Jean-Charles.
Jean-Charles le Bault de la Morinière
Jean-Charles was born in 1949. Until 1994, he was a career architect with a private practice in Paris specializing in the restoration of historical monuments. But from 1969 on, with the exception of 1976 when he was performing his military service, he spent every harvest in Burgundy.
In 1994, abandoning Paris and his architect's practice, he made the decision to move to Burgundy and take over the domaine. Jean-Charles makes a point to stress that he moved not to Beaune or to Dijon, but to the tiny village of Pernand-Vergelesses. "When one works the land, one doesn't do it from a distance", he says. Today's viticulture does not tolerate absentee landlords like his ancestors were. Of the five generations that have owned the domaine, Jean-Charles was the first to make wine his full-time, whole-hearted calling.
Jean-Charles is tall and lean. His face is one you won't forget. There is such strength and character to it that even though it isn't his branch of the family that is connected to Nicolas Rolin, he looks like what you would expect an important historical figure from the chancellor's era to look like. Adding to the aura, his manners and conversation are beyond good: they are courtly.
At this point, your giddiness to taste Corton-Charlemagne could easily be tempered by the sort of anxiety described by Oscar Wilde: "The world was my oyster but I used the wrong fork." But Jean-Charles is an unusually gracious host and he is as luminously intellectual as the terroir of Charlemagne itself. First time visitors will be greeted with a lengthy exposé on the domaine, but once he is done, Jean-Charles is manifestly interested in his guests. He solicits their opinion, and listens intently. And there is something impish about him too: his eyes often look amused, as if he was preparing to add something witty, or hold it back from you.
It is not just the wines that are wonderful at Bonneau du Martray, but the exchange of thoughts. A visit at the domaine always leaves you feeling like it didn't just bring out the light out of the hill of Corton, but out of you.
Viticulture
Upon his arrival Jean-Charles found vineyards that were literally terrorized by erosion and petrified by chemical vineyard management. "What shocked me when I took over", he says, "was that our vineyards were purely and simply facing destruction. We had erosion problems. No one seemed preoccupied by them. I saw topsoil come down the hill. I saw the roots of our vines exposed. I was scared."
So Jean Charles began to plow the vineyards again and eliminated chemicals. By 2003, Jean-Charles' winemaking and sales workload had become too heavy for him to pay as much attention to the vines as he would have liked to, so he hired a full-time vineyard manager. "The goal was simple: to shift into high gear to make the domaine fully organic with an eye towards biodynamics."
At first Jean-Charles had mitigated feelings about biodynamics. Coming from a family that for generations had made a living from the land, not just from vineyards but from forests and farms as well, he was "comfortable with the great laws that govern nature." But the discourse held by some of the proponents of biodynamics was so imbued with esotericism that he found it unintelligible. Fortunately, there were others, such as Dominique Lafon, who provided a pragmatic and accessible sounding board. The light bulb went off for good after a visit he made with his team to see Olivier Humbrecht. Olivier was extraordinarily gracious and spent hours with them in the vineyards. "After our switch to biodynamics the results were astounding", he told them, "you risk nothing in experimenting with it."
Indeed, Bonneau du Martray makes only two wines, one of them in a quantity large enough that experimentation would pose a limited risk. Jean-Charles' ensuing experimentation, however, was hardly limited. One third of the domaine, he thought, would amount to a meaningful rational experiment. To guarantee a comparison that would make sense, parcels were chosen that would offer halves comprised of identical vine ages and genetic material. Then, of course, the grapes from each half parcel were vinified separately.
"The impact biodymanics had on the wines I did not notice right away", says Jean Charles, "but the impact on the behavior of the soil as well as of the vines was immediately apparent. One of the great goods of biodynamics is that it forces one to not merely observe, but to do so in great detail. One really sees that the vines behave differently, and better, in terms of verticality of the branches, in the organization of the canopy, even in the coloration of the leaves."
As to the wines, from the point of view of laboratory analyses, Jean-Charles never saw any difference, at least nothing of great significance: "Some say that biodynamics will result in a better balance of acidity, but I don't know how they see that. In my winery I can't measure it. However, we do believe that our biodynamic vines produce wines with more dimensions. We eventually conducted blind tastings to evaluate this and the tasters were unanimous. This has changed the way I approach winemaking. Before, at the birth of a vintage, I instinctively needed to be reassured as to the acidity of my wines. We made constant pH analyses. But today I couldn't care less. Of course I still measure pH, but the acid character of wine is not what I find interesting. An acidic flavor is not that compelling, at best it is short. With biodynamics we have wines that are not acidic but fresh, wines that are brilliant, wines that have tension, mineral tension, wines that taste of the stone. Now that is interesting. We also find wines that are denser, but paradoxically with a light, aerial density. I really see that today, and in vertical tastings the change is noticeable from 2005 on."
Following the experimentation, Jean-Charles decided to convert the entire domaine to biodynamic vineyard management.
Winemaking
Before Jean-Charles' arrival, the domaine was harvested and vinified without detailed thought to vineyard blocks. It was one of the first things he changed. His Corton-Charlemagne is now separated into 15 blocks, all of which are vinified and aged separately until the second racking.
All fermentations at Bonneau du Martray are spontaneous. "I am violently opposed to the introduction of industrial yeasts" says Jean-Charles, "I would not be so presumptuous as to say that yeasts are a part of terroir, but they are, at the very least, a part of the vintage. I don't see why one would want to erase that character. And I'm afraid of commercial yeasts. Has anyone had the temptation to introduce GMOs in them? We have no idea."
His father used to vinify and age 25% of his whites in tank, but Jean-Charles says he wouldn't be comfortable vinifying his whites in tank and that his father's wines lost in the process some freshness despite aiming for the opposite. "It is funny how our approach differs", says Jean-Charles. Well, not exactly. After twelve months in oak, he racks them with their lees into tanks for a further six months ageing. Though not exactly the same recipe, father and son certainly share the view that the influence of oak needs to be muzzled. Like his father, he is comfortable with 30% new wood.
"Bâtonnage must be a reasoned step", says Jean-Charles. "I do not use it systematically. If I stir the lees, it is only on cuvées I believe would benefit from it. Then I stir only once and allow the wines to settle for at least two weeks so I can taste before deciding whether more stirring would be beneficial. Bâtonnage is a progression. It may take up to three months to obtain the desired effect. It is something one builds peu a peu (little by little)."
A second racking takes place in January to rid the wines of the lees and start the settling process. When there is need to, Jean-Charles will fine. But as with everything else, the process is reasoned, in fact, in this case, it is highly reasoned. "I test three types of fining for each cuvée. There are 15 cuvées. That is 45 fining trials plus 15 unfined wines. A total of 60 wines to taste and compare. One always has to taste." After fining, or not, the wines are assembled together to allow them two months or more of resting time before bottling, which more often than not takes place in April. Prior to bottling, Jean-Charles believes in a filtration dégrossissante, a very light filtration.