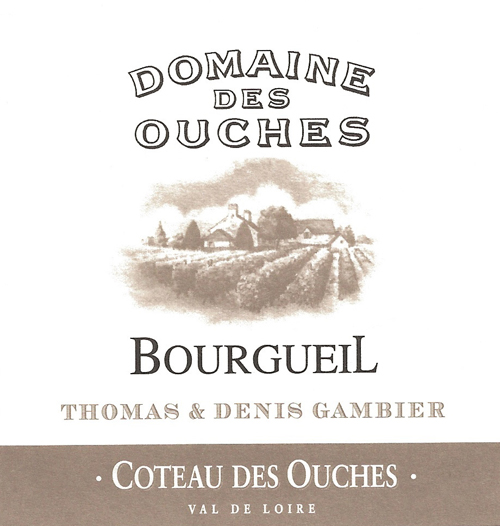 Location: Bourgueil, Loire Valley
Size: 17 ha (42 ac)
Varieties: Cabernet Franc, Cabernet Sauvignon
Viticulture: Lutte raisonnée
Vinification: 100% de-stemmed, indigenous yeasts, no new oak
The Domaine des Ouches is located in the Bourgueil appellation of the Loire (between Saumur and Tours). A total of 17 hectares (about 42 acres), it has been the home and the passion of the Gambier family for eight generations. The current managers are Thomas and Denis Gambier, who have made it their mission to create wines that express the complexity of Cabernet Franc. While the appellation does allow some Cabernet Sauvignon to be blended in, the brothers only use this variety in their Grand Réserve, sticking with 100% Cabernet Franc for their other cuvées. This variety, known locally as Breton, has been in the Loire since 1152, making the wines of Domaine des Ouches an expression of the family's heritage and regional pride.
At Domaine des Ouches, Cabernet Franc is sourced from different vineyards, allowing the Gambier brothers to highlight the impact of terroir. Cuvée "20," for example, comes from vines grown on gravel soils that warm up quickly and speed up the ripening process, resulting in more supple wines. The clay and limestone hillsides of Coteau des Ouches, however, create an environment for slower maturation and more concentrated grapes. Sandy soils, like those in Clos Boireaux, give solid but silky tannins to the wines.
To best express their terroirs, Thomas and Denis work carefully in the vineyards and cellar to avoid using unnecessary chemical treatments, while still ensuring quality, age-worthy wines. Tilling their soils, canopy management, and hand-harvesting ensure healthy soils, happy vines, and the best selection of grapes possible. During vinification, the brothers employ a variety of techniques to make cuvées with distinct personalities. For example, the shorter maceration period for the "20 Rouge" ensures that it is approachable, perfect for consumption by-the-glass. The estate's historic underground cellar, dug into the soft tuffeau limestone, keeps their wines cool as they age for 12 to 24 months in oak barrels, foudres, and amphora (for La Romana).
The result is a showcase of Cabernet Franc. A delicate aromatic rosé, and concentrated red wines, ranging from the juicy "20 Rouge" to the denser, more tannic, and age-worthy (Coteau des Ouches, Grande Réserve, and Le Clos Boireaux), to the complex and elegant (La Romana).