4 Eléments: Chardonnay 2013
At a Glance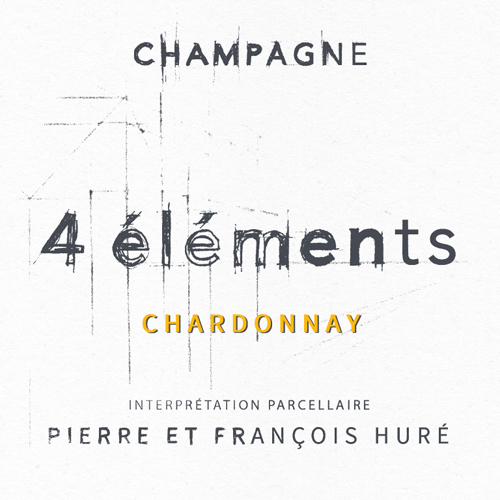 Size: 0.80 ha (1.98 ac)
Variety: Chardonnay
Vine Age: Planted in 1964
Terroir: South-facing lieu-dit Les Blanches Voies (Rilly-la-Montagne) rocky limestone soils, massal selection
Viticulture: Sustainable
Vinification: Exclusively in 600-liter demi-muids, no malolactic fermentation, cork for 3 years prise de mousse sur lattes, 3 g/L dosage (Extra Brut) in April 2017.
Additional Info
The philosophy of 4 Eléments cuvées originated in the brothers' desire to reveal the balance of their terroirs and to observe, understand, and experiment with their unique characteristics. The combination of four elements- one parcel, one variety, one vintage, and one overriding method of vinification- allows for a true, precise reflection within the larger, magnificent mosaic of terroirs that define Champagne.
The Blanches Voies' south-facing exposure is quite rare for this area of the Montagne de Reims. Expressing a more austere side in its youth (best to open in advance) this wine opens with some time and age.
Evolution of the cuvée: For 2010, the first vintage of 4 Eléments, the brothers made just one wine: a Chardonnay sourced from lieu-dit Derrière Travent. Located in Vavray Le Grand in the Côteaux de Champagne, this parcel has hard limestone soils from Secondary era. This first Chardonnay was actually vinified in smaller 350-liter barrels, rather than the demi-muids that have been used for all three of the 4 Elements champagnes since 2013. The 4 Eléments Chardonnay was not made in 2011 or 2012 as the brothers did not consider the quality or quantity to be sufficient for a separate cuvée. In 2013 (the first year that all three 4 Eléments cuvées were first made) the brothers changed the origin for their Chardonnay as they consider Blanches Voies to be have a stronger, more distinctive personality in the final wines.