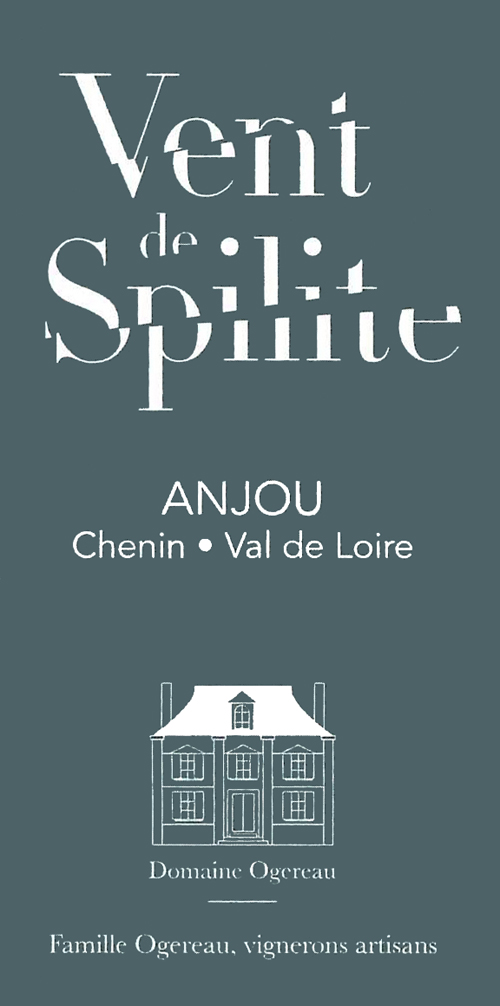 Location: St. Lambert du Lattay, Anjou, Loire Valley
Size: 20 ha (49.42 ac)
Varieties: Chenin Blanc, Chardonnay, Cabernet Franc, Cabernet Sauvignon, Grolleau Noir
Viticulture: Converting to organic
Vinification: Indigenous yeasts; aging in tank or mostly neutral large barrels; de-stemmed infusion-style reds; dry Chenins with no botrytis and partial malo
Emmanuel Ogereau
Because Carine Sérol tells us we should, we meet with Emmanuel Ogereau a year ago. It is the least awkward meeting ever. He is a river of smiles and uses laughter in lieu of punctuation.
Emmanuel is not yet thirty years old, with only two vintages under his belt. He is a wine nerd (this is not a given) and despite his youth, his aesthetic vision is perfectly formed. Confidence is tempered by humility; respect for the accomplishments of his parents is gladly paid. We meet them as well. Catherine and Vincent are warm and welcoming. Vincent is one of the best classic winemakers in Anjou. He is known especially for his sweet wines and his reds. But he knows where he stands: Anjou is evolving. His son's ideas are welcome and embraced.
We visit the vines with Emmanuel. They are soon to be certified organic. Between terroirs, we recite our favorite Chenins. The braggadocio of young male winemakers can be grating but Emmanuel offers none. He praises freely and when he critiques it is in the manner of an analytical fan, like a musician discusses the performances of other players he admires. (Father and son play the tuba.) We ask about Thibaud Boudignon, who has made quite a splash; we love his wines. Emmanuel agrees. And he finds him inspiring. Especially since Thibaud, like Emmanuel, makes wine in Anjou Noir.
Anjou Noir, Anjou Blanc
"The story of the town of Angers," Alice writes in The Dirty Guide To Wine, "is a tale of two soils: the tuffeau limestone Anjou Blanc and the dark schist and slate of Anjou Noir. While they both produce exciting wines, they can be markedly different. The grape that experiences the greatest discrepancy on these two soils is Chenin."
Geology, climate and winemaking conspire to make Chenin on schist higher in alcohol, with higher pH and lower acidity, often with botrytis, often with partial or full malo (Chenin on limestone tends not to go through it). "Some have described Chenin on schist and slate as fleshier and more savory than its limestone-grown counterparts," Alice adds. "There are some who get nasty, though, saying that Chenin on the dark soil is austere, powerful, bitter, and 'intellectual.' (…) Anjou-raised Pascaline and I love it."
It can't be fun being the less-loved sibling. To love yourself "just as God made me," or to do something about it? The churches are many in Anjou Noir, and Lord, do they bicker! Botrytis or not. Malo —full, partial, blocked. Sulfur —a lot, a little, none. Wood —new, old, none. Etcetera. What we think about that is what Jesus would preach: tolerance. Because the most remarkable thing with Chenin is how brilliantly it responds to such a diversity of terroirs and treatments.
Sure, some of the most glorious examples are to be found on the limestone of Brézé. They are fluorescent, and electric, and painfully tart, and intensely mineral, and they shine with buzz and contemporary relevance like the first intimate concert of the next big thing in music with loops, fuzz guitar and vintage keys. And You? You were right there at ground zero! But equal glory is to be found in the natural Chenins on schist. They are wild, with even more psychotic bouquets, and they are intensely savory and free, and no, they do not have the same acidity, yet they beam with energy nonetheless and with the mineral spine that Chenin is never at a loss for. And even though they are loved by hipsters in cities the world over, they speak more of open spaces, of the countryside, of an old house there with a library full of leather-bound histories and Nordic Noir novels and your favorite club chair.
And glory is also to be found in between the poles. Which bring us back to Mr. Boudignon who makes Chenins on schist with a freshness reminiscent of limestone. To achieve this, Thibaud picks early, without botrytis, and blocks the malos. The latter is the main point of discord, but his wines are distinctive, precise, and exhilarating. In many ways, what Thibaud does in Anjou Noir feels similar to what In Pursuit Of Balance did in the US: in the context of their respective appellations, the wines feel like snow-capped mountains. Thibaud is not the Lone Ranger of the style but he is currently its most celebrated winemaker. Emmanuel has not set out to make the same wines, but he definitely belongs to that school.
No botrytis, little malo
Emmanuel's biggest imprint on the family domaine has so far been with its dry Chenins. They are now picked before the onset of botrytis; Emmanuel wants "not one affected berry." When necessary, shortly before harvest, botrytised grapes are cut off. Harvest then consists of two tries (just when the grapes start to turn yellow), whereas his parent used to pick with up to four tries (waiting for green or pale yellow berries to turn deep gold and for the onset of some botrytis).
The Ogereau cellar is one where malos naturally don't happen, or happen only partially. Emmanuel uses sulfur, but doesn't bombard the wines with it (and he is doing sans souffre trials). Partial malo, about 30%, is a proportion that Emmanuel likes. Sometimes he finds Chenins on schist with no malo too strict: "The wines can be too tight, too closed. They can be beautiful with some cellaring, but not in their youth." One of his 2015s did fully complete its malo. In this regard, he is more in line with Tessa Laroche than he is with Thibaud. (He loves Tessa's 2015s.)
The two considerations above are stylistic pillars. Apart from that, there is a very strict selection of juice. Whole clusters are pressed without prior crushing. The first twenty liters of free run juice are always discarded because it can bring an unpleasant herbaceous character and bitterness. Pressing is slow, 3.5 to 4 hours. And after each rebèche, the first twenty liters of free run juice are discarded again. What is left only requires short settling.
Fermentations are with indigenous yeasts but are not always spontaneous: they can be prodded with a pied de cuve, a starter made from the domaine's grapes. Fermentation begins in stainless steel tanks. After a couple days, the wines are transferred to their aging vessels: cement tanks lined with sandstone tiles or 400 and 500-liter barrels (no new oak). The wines ferment until fully dry. They are usually lightly filtered.
There are four dry Chenins at Ogereau: Anjou Blanc En Chenin, Savennières le Grand Beaupréau, Savennières Enthousiasme, and Anjou Vent de Spilite. Their descriptions can be found in the accompanying wine pages but Vent de Spilite deserves a shout out.
Spilite is a rock that is neither rare nor common (Emmanuel knows of about 60 hectares in Anjou) but it is not often consecrated on its own. Emmanuel mentions only Litus by Eric Morgat, and Les Rouannières by Pierre-Bise.
Wikipedia states that Spilite is a "fine-grained igneous rock resulting particularly from the alteration of oceanic basalt." (Rhyolite is its cousin.) It forms large, blueish-green blocks, that are not very friable. It degrades into clay, making it a more water water-retentive terroir than schist. And it is high in magnesium which keeps pH low.
Emmanuel first isolated the terroir with the 2014 vintage. It is the wine that tied the knot for us. We started selling Vent de Spilite with the 2015 vintage, and it is even better. It doesn't have the typical, wonderfully cray cray nose of Chenin on schist. It is beautiful though. More mannered, more reserved. Floral. Crushed powdery things that are half stones, half sweets. Herbal. Vinous. Peekaboo Chenin funk that hides deeper, in the core of the nose. There, petals have fallen on a pond and are fading. On the palate, minerality is the first salvo. In lunar phases that emphasize structure, it's painful — it may be all you get. But we're writing this on a fruit day, and there is a beautiful, lithe, fresh, silky, fruity texture. You'll only notice Chenin's tannic structure on the mid-palate after some time in the glass. It softens and expands and fills the wine out in a greatly satisfying manner. All throughout, the acidity remains vibrant. Vent de Spilite has breathed just enough during its élevage in wood, none of it new; there's discrete creaminess, a Burgundian aesthetic.
Reds: where we learn that Cabernet Sauvignon on schist could be a 'thing.'
There are three red varieties at Ogereau: Cabernet Franc, Grolleau Noir, and Cabernet Sauvignon. Three wines are produced: Anjouée, Les Tailles, and Côte de la Houssaye.
Schist is a disciplinarian parent when it comes to red wine, especially Cabernet Franc. "You're always on the razor's edge," says Emmanuel. "It remains very Cabernet, meaning that you can have the pyrazine character, and at the same time you have hydric stress, with very firm tannins."
So unlike with Chenin, the Ogereaus are always looking for high grape maturity for their reds. And they are fully de-stemmed. "For the moment," Emmanuel says, "I plan to leave it that way."
Anjouée, which is a blend of 80% Cabernet Franc and 20% Grolleau gets a very short, five to six-day maceration. Les Tailles (100% Cabernet Franc) and la Houssaye (100% Cabernet Sauvignon) get a more traditional maceration length, twenty to twenty-five days. Extraction is infusion-style, with no pigeages. Increasingly, Emmanuel is playing with the absence of sulfur during fermentation. One of the three tanks of Anjouée had none in 2016.
Systematically, for all three wines, the pressed wine is discarded. Anjouée is aged in buried cement tanks lined with sandstone tiles; les Tailles half in similar tanks, half in 500-liter barrels; la Houssaye is aged only in 500-liter barrels. For both wines, the proportion of new oak is 10 to 15%. The reds are never fined; they are very lightly filtered.
We were in Patrick Baudoin's cellar the first time we were made aware that Cabernet Sauvignon on schist should be taken seriously. He blinded us on two wines, two different cuvées of his Coteau d'Ardenay, one made only with Cabernet Franc, the other a blend of Cabernet Sauvignon and Cabernet Franc. We had a strong preference for the latter. Tiens?
Ogereau's Côte de la Houssaye is all Cabernet Sauvignon. One would be tempted not to like it, because, well, Cabernet Sauvignon is synonymous with Bordeaux, and for a while it was definitely not cool to like Bordeaux. Not only is Bordeaux changing fast, but now that we've seen from several winemakers what the variety can do in Anjou Noir, we think there's a there there. Not only does Cabernet Sauvignon on schist work, it has an identity of its own. Côte de la Houssaye 2015 is a sauvage wine, in the best sense. Its fruit is very much for adults: not a lot of black berries, and no polished winemaking either, but a whole lot of savory and interesting aromas and flavors that are brown and green. Its vegetal character is not that of pyrazines, but savory, and meaty, and complex. On the palate it changes in the glass beautifully, evolving from slightly brutish to muscular with a big heart. And it keeps your attention. Perhaps there is a reason for its success: Emmanuel says that Cabernet Franc is more resistant to hydric stress than Cabernet Franc. Also, they have large proportion of old vines; 2/3 were planted in 1961. Finally, it is on the Ogereaus' best red wine terroir. (Emmanuel will be replanting massales of Grolleau there, to give it its best chance.)
A brief history
The domaine was born in the late 1890s, when Emmanuel's great-great grandfather, a miller and a farmer, planted vines after the phylloxera crisis to further diversify his production. Two generations later, Emmanuel's grandfather was able to focus fully on the vineyards and the sales of his wine in bulk to a private clientele. Emmanuel's father, Vincent, began estate-bottling.
Emmanuel was born in 1989. He grew up in the cellar and loved everything about it; he never thought of trying his hand at anything else. After high school, he studied winemaking and viticulture in Angers. He interned at the Côtes de Buzet cooperative, and at Carrick, a biodynamic winery in Central Otago.