Meet Domaine Prunier-Bonheur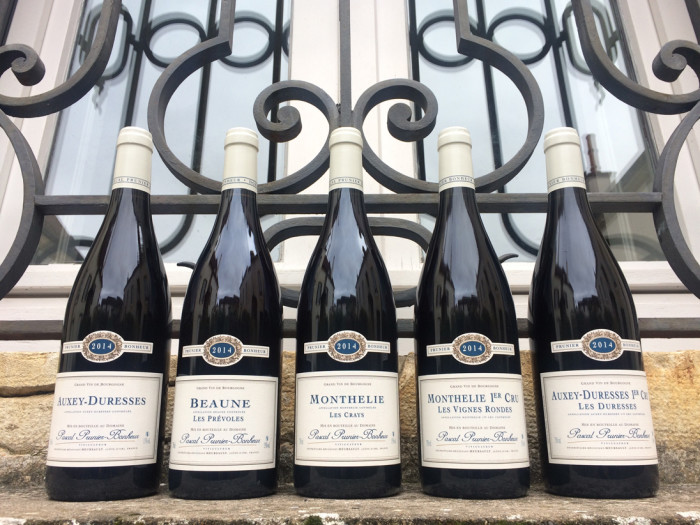 Photo by Abby Kaufman
What Pascal Prunier manages to coax out of motley crew of relatively modest appellations, whether red or white, is absolutely spectacular. There are Coteaux Bourguignons, a Saint-Romain, Auxeys, Monthelies, Beaunes, Meursaults, and Volnays.
The whites beam with energy, especially the white Auxey-Duresses Les Crais, on the North side of the appellation and deep in the valley, where there is a high content of active limestone. This is a powerful terroir, with assertive stoniness and near painful acidity, and Pascal's translation of it is a wine as potently energetic as the first cup of coffee in the morning, as a citron pressé, as running an ice cube over your face on a scorching day. It is a wine of cravings. Move on to the white Monthelie Les Toisières and it is hard to believe that it was made by the same person. It is rich, with a dense core that loosens quickly to more cuddles. The differences in terroir are striking, while the winemaking signature is absent, well, texturally-speaking: there is on the nose of Pascal's whites that hint of Burgundian reduction, textbook, in perfect proportions, something people would pay dearly to achieve so tastefully.
As for the reds, what is rather extraordinary is their Zen-like calm, and their great purity. Very lightly extracted, their attack is soft, delicately fruity, happy. It's only when you start focusing on the back palate, especially in Auxey and Monthelie, where you notice the underpinnings of serious structure. Nothing is loud, though. It's quite puzzling. And very savory. And you just want to pour more and think about it again.
HISTORY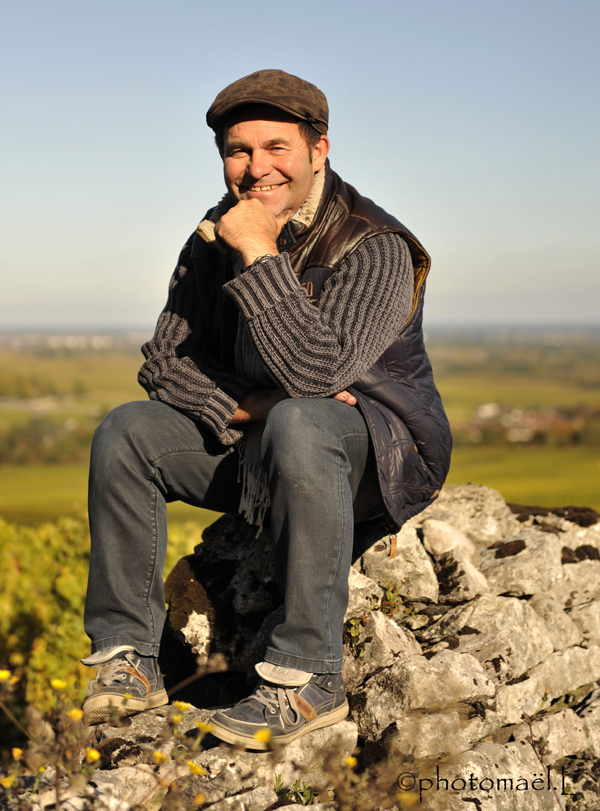 Pascal Prunier, who has the most endearing and impossibly wide grin, is the 5th generation in a family of vignerons. He decided to launch his own domaine with his wife, Christine Bonheur, in 1983, with a mere 3 hectares of rented vines. Today, the domaine comprises 8 hectares of vines, scattered throughout the Côte de Beaune, from Saint Romain to Beaune. Production is equal parts white and red wine, and the cellars are located on the road between Meursault and Auxey-Duresses.
VITICULTURE & WINEMAKING
Pascal's viticulture is mostly organic because of the painfully complicated conditions during recent vintages.
Reds – Pascal prefers to de-stem entirely for purity and precision. Whole berries go through a 3 to 8-day cold soak (12°C) before indigenous yeast fermentation in stainless steel tanks begins. For a gentle extraction, temperature is limited to 32-34°C maximum and pump-overs are favored to punch-downs, which are limited to 2 or 3 times total. The reds age 15 to 18 months in barrel, with 10 to 20% new oak for village level, and 20 to 30% new oak for the 1er Crus. Reds may be lightly filtered, depending on the vintage.
Whites – White bunches are transported to the cuverie and pneumatically pressed as rapidly as possible. Indigenous yeast alcoholic fermentation takes place in barrel (limited to 18-22°C maximum). The white wines age 11 to 15 months in barrel, with fining and filtration implemented as deemed necessary through blind tastings.