Feb. 27-March 3: La Paulée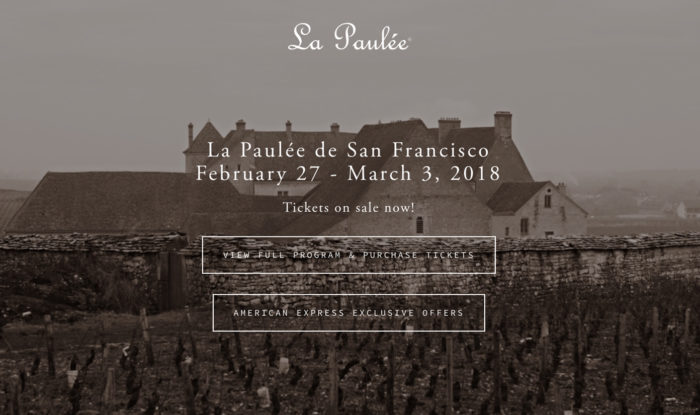 The Paulée returns to San Francisco this year, with a week of winemaker dinners, tastings, and other events for Burgundy wine lovers.
Beyond the Welcome Party on Thursday or Saturday's Grand Tasting and Gala dinner, this year we are particularly excited about quite a few events.
On Tuesday (February 27th) Maxime Cheurlin (of Domaine Georges Noellat) is hosting a winemaker dinner at the Morris. A great chance to get an in-depth and personal look into the next generation of Burgundy, attendees will also taste several vintages of his Vosne Romanée 1er Cru Petits Monts and Grands Echezeaux Grand Cru. The event starts at 6:30pm and costs $850.00 per person.
For directions to the event:
Thursday's Collectors Lunch features our own Dominique Lafon alongside Charles Van Canneyt. Hosted at Quince, the three-Michelin-starred restaurant, attendees will savor Domaine des Comtes Lafon Meursault 1er Cru Genevrières, Meursault 1er Cru Perrières, and, for the finale, a taste of the domaine's rare Montrachet. This event begins at 12pm and costs $1,200.00
For directions to Quince:
Always an exciting event, the Verticals Tasting on Friday will feature quite a few of our favorite domaines, including Bonneau du Martray, Domaine des Croix, Comtes Lafon, Hubert Lamy, Georges Noëllat, Sylvain Pataille, Nicolas Rossignol, and Comte Georges de Vogüé.
For directions to the tasting:
We are, perhaps, most excited for Saturday morning's event, Burgundy: Yesterday and Today through the eyes of Becky Wasserman, located at Pavilion Room. Guests will first experience a pre-recorded interview and discussion with Becky and some of our most legendary vignerons (Frédéric Mugnier, Dominique Lafon, Frédéric Lafarge, and Pierre Morey) before a discussion and tasting with members from a newer generation in Burgundy: David Croix, Olivier Lamy, Sylvain Pataille, and Becky's son Paul Wasserman.
For directions to the event: